Year 6 Hockey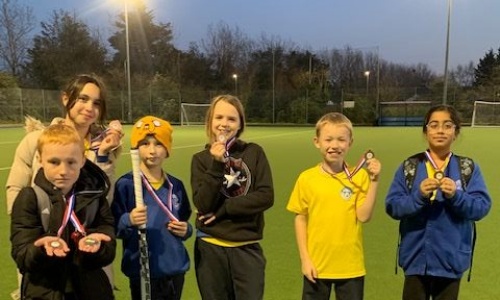 Year 6 Hockey Team's results from their hockey tournament.
Last Friday, Riverbridge's Year 6 Hockey Team entered a hockey tournament at Staines Hockey Club. After splitting into two teams; 'Real Riverbridge' and 'Athletico Riverbridge' we were ready to compete! Despite freezing conditions, the teams played an excellent game showing grit and determination as well as great teamwork.
Athletico Riverbridge put in a gallant effort but came up short in their first 5 games, managing 4 losses and a draw. However, they finished on a high with a 2-0 win - with goals coming from Chloe and Naryan. Callum also contributed to the goals scored throughout the tournament and Naryan was the team's top goal scorer.
Real Riverbridge had more success winning 3 of their first 4 games 1-0, 3-0 and 2-0 with all the goals coming from Fred. There was also a 0-0 draw in the third game. Unfortunately, we had two narrow losses in the last two games losing 1-0 both times but their efforts were rewarded, finishing joint second overall. We came home with a bronze medal on goal difference! Thank to the team for their hard work and the parents who braved the cold to come and support!